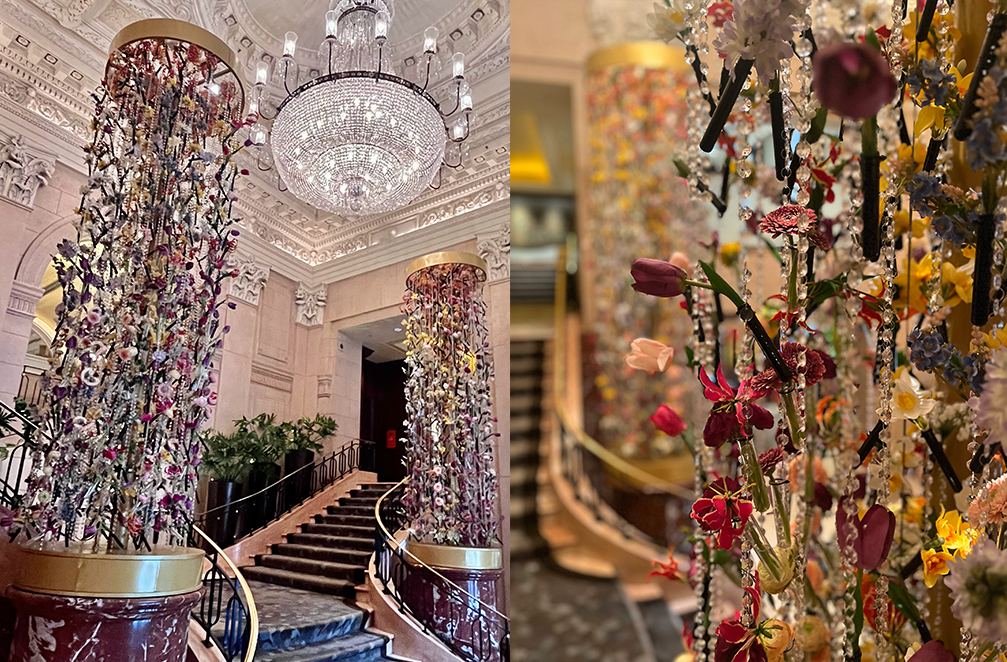 The Peninsula Hotel in New York is known for its exquisite luxury and attention to detail, and we were honored to have the opportunity to create a floral installation that celebrates the arrival of Spring. Our installation featured two columns of 400cm tall, fully decorated with Crystal cords and 1750 glass tubes each. Each tube was decorated, forming a colorful mix of Spring flowers such as Ranunculus, Gloriosa, Tulips, Narcissus, and Lilies of the Valley.
We designed the entire installation and took care of the full installation and weekly maintenance and refreshment of flowers for a period of 8 weeks. The decoration will be on display during the Spring Season, including Easter and Mother's Day. To get the most out of the budget, we used artificial flowers at the top and fresh flowers at the bottom, which are seamlessly arranged. The framework and hard materials are reusable for many years of Spring seasons to come.
The result is a stunning display that is both visually striking and full of life. The combination of natural and artificial flowers creates a vibrant and dynamic look that perfectly captures the spirit of Spring. The tubes and cords add a modern touch and create a unique and eye-catching focal point.
If you are looking for a floral installation that will add a touch of elegance and sophistication to your event, we highly recommend contacting The Floral Designers. Our team of experienced designers and installers will work with you to create a custom floral installation that is tailored to your specific needs and budget. Contact us today to learn more about our design and development process and to schedule a consultation.